April 26 2013 at 09:19 PM
Bad Karma
Late post today, but the good news is I had a great meeting at Cartoon Network today that I can't even talk about (has nothing to do with Axe Cop). But, today's episode is here, it's done.
AND I finsihed inking this print! I am going to add a layer of one color of shade to give it a little more color and dimension, but here is the line work. You can buy yourself a copy of this print HERE through May, then you can not get it.
That's all I have for now. I'm pretty pooped. Thanks for reading my comics.
Ethan
April 23 2013 at 10:22 AM
Legos and Tattoos
Well, only one more week of Axe Cop comics online until I take a break for my wedding and honeymoon in May. That will also be the last month the Axe Cop Wedding sketchbook and print will be available at www.AxeCopWedding.com.
I don't know if I mentioned this yet, but Chris Hastings (Dr. McNinja) and I interviewed one another recently over at the Dark Horse Blog. We did this once before and we have both had a lot of fun doing it. We tend to ask each other questions we don't normally get asked in interviews so it makes for an interesting conversation.
I had a fan named Jake Fahy send me this awesome image of his lego Axe Cop and Wexter:
And, I can't remember if this is the first Axe Cop related tattoos I have seen, but it is definitely the coolest:
That's all I've got for now. See you Friday.

Ethan
April 19 2013 at 07:57 PM
No Jabs
I'm curious if anyone will guess what martial arts film star that is based on in the center panel. Poor guy.
Rugburn is back with another episode of the Moon Warriors. I have to admit when they ran this episode past me it didn't dawn on me that it's an INVISIBLE fire shield, therefore you should not be able to see flames. That is why I tried to draw the ninjas faces burning off without fire on them in the first place (which was super awkward). I guess we can say that thanks to movie magic the flames are now visible. Seeing the fire dumptruck in action was as awesome and terrible as expected. Please enjoy...
April 17 2013 at 12:07 PM
Evil Bunky
I know what you are going to say. That is not a monkey, it is an ape. I just really wanted to draw a bat gorilla. I saw a chance and I took it. Close enough.
I've been in the Axe Cop Writing Room this week, unexpectedly (we now have a twitter by the way). So it has caused me to fall a little behind. I got this page to Kailey late, so she wasn't able to finish it on time, so here it is a day late, but at least it is here. Friday, if all goes well, I will post a new Ask Axe Cop.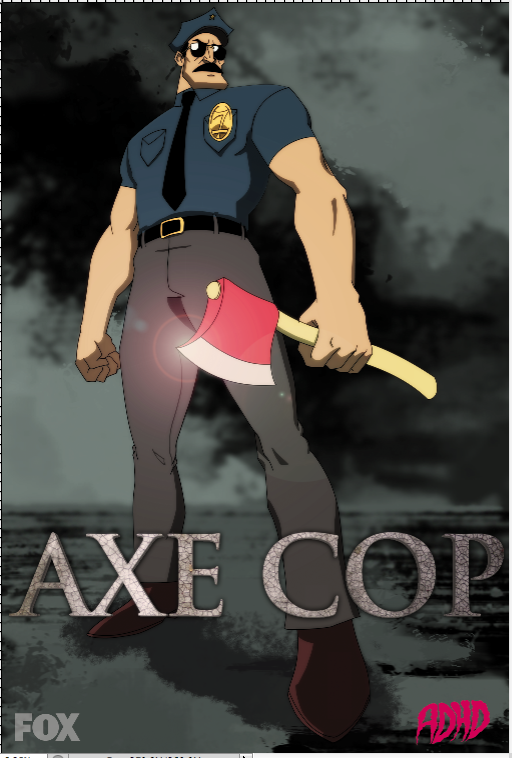 -Ethan
April 12 2013 at 12:23 AM
9 Ben!
We get asked this question somewhat often, so it was fun to reimagine the 9 leftover Ben-Matnga as adults. A lot more work to draw too. The original designs were out of my resistance to drawing 10 characters on a team. So much work! I embraced it a ittle more this time, but if I ever have to draw these guys in a story I'll kill myself.
I'm pretty whiped out because I am working on the TV show right now on top of many other things. Hope you enjoyed today's comic. Here is more progress on the print. If you want ot buy a copy of it (limited to 200, signed, numbered, 18x24 screen print) go here.
Also cool, check out these comparison shots from the 2nd live action Axe Cop video made by Peter Muehlenberg and friends. These guys were insanely faithful to the comic! Basically word for word and shot for shot.
Alright, well I need to pass out so I can drive in traffic 50 miles to work on the show in the morning. By the time I wake up, you will have seen this.

Ethan