I decided to use some of Malachai's mispronunciations of bridal party terms, like "Bride's Mates" and "Ring Berrier".  Hopefully it is funny and not simply confusing.  Malachai is a seasoned Ring Berrier, he bore the ring at our brothers Noah's and Isaiah's weddings, and then he was ring berrier coach to my step son, Ezra at my wedding.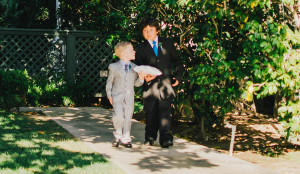 And yes, Tom Nicolle is our dad.  The 72 year old father of kids ranging from me to Malachai.  If you have ever met my Dad he loves to talk about spiritual things, and so he will be officiating at Axe Cop's wedding.
Well I am trying to get a lot done today, because tonight I am going to see Riff Trax Live: Starship Troopers!  Should be fun.
Ethan