The Tale of Axe Cop, Created by Two Brothers Ages 5 & 29
The AXE COP saga began on a Christmas visit to see my family. My Father, a man with very healthy loins, has managed to produce a variety of children, ranging from me, a 29 year old comic book artist, to my 5 year old brother Malachai, a 5 year old boy genius, with four other siblings in between. During the visit Malchai was running around with his toy fireman axe and he said he was playing "Axe Cop." He asked me to play with him, and I asked what my weapon was… so he brought me a toy flute (actually a recorder). I told him I would rather be Axe Cop then Flute Cop, and he seemed just fine with being Flute Cop. The story that followed became more and more brilliant, until I couldn't contain myself and I had to draw the whole thing into a one page comic. From there the saga continued, and over the course of my week-long visit we cranked out the first four episodes of AXE COP. I posted the comics to my blog and on Facebook and they got great responses. I decided to give AXE COP a home on the internet here and attempt to continue the saga as often as I have time to draw them, and I can get Malachai to write them.
The writing process is basically just me quizzing Malachai as he develops the saga. I'll just try to pry all the details out of him and write them all down until something like a complete little story has been formed. Everything in AXE COP started in Malachai's head, all I do is sort it out and draw it. Here is a video of the writing process. So enjoy these comics, they are a fun slice of the mind of a 5 year old boy processed through the pen of a 30 year old comic artist.
Please send us your comments and questions, but keep in mind a child is present, so watch your frickin' language.
-Ethan Nicolle 1-20-10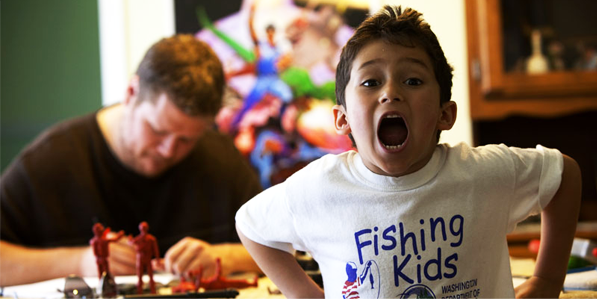 photo by Zero Dean

Since it was created online, Axe Cop has been published into comics, made into toys, t-shirts, card games and even a TV Show on FOX.  Axe Cop's success continues to amaze us, and we continue to make it.
Malachai Nicolle was a five year old kid when he and his brother created Axe Cop together.  He is from rural Washington and he loves Dinosaurs, Ben 10, video games of all kinds, and anything involving bad guys getting destroyed.
Ethan Nicolle is was 29 years old when he created Axe Cop with his brother.  He is a comic artist/writer living in Los Angeles. He is the writer/artist/creator of the Eisner Award nominated Chumble Spuzz (SLG Publishing). He currently has a couple of shows optioned at Cartoon Network and is working on the Axe Cop TV show at FOX ADHD, as well as his other web comic, Bearmageddon.