Not having much of anything to say today, I guess I'll plug myself.
I do illustration and design for hire. Check me out here at my page. Contact me if you have something you want me to scribble. Here's a recent project I completed for an AT&T conference done in my best attempt at a Jack Kirby style, of all things.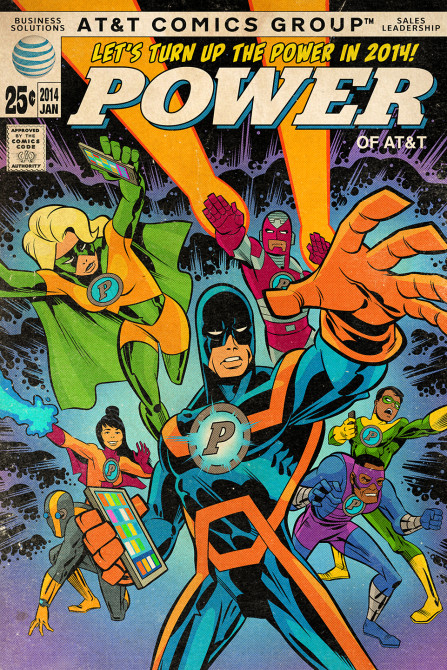 I also do vocals in Lich King, we do 80s thrash metal. I understand there's likely not much organic overlap between Axe Cop and thrash metal fans, but screw it, we go where the fun is. We have a song about Axe Cop that Ethan's been kind enough to spam to you a few times. Here's that and a couple of other jaunty ditties.
We're touring in March down the east coast with our pals Exmortus. If you'd like to come out and see the (other) guy that draws Axe Cop making a fool of himself on stage, here are the dates. Click the image for more details. Y'know. If details are what you're into.
That's it for this week. Next week, Rainbow Girl and the fire-breathing dragon strike.
KIDS' QUOTES OF THE WEEK
Charlotte's playing Minecraft and flying over a desert. A forest appears.
Charlotte: "Oh look, I can burn down the forest and build a house there!"
Me: "Why do you have to burn down the trees to build a house??"
Charlotte: "Because we need space!"
Me: "I think you just want to play with fire. There's
space in the desert, why don't you build a house there?"
Charlotte: "Because sand is stupid! …Okay,
now let's light some trees on fire."
                                        -Charlotte, 8 years old
The kids are being shown STAND BY ME.
Charlotte: Why do they keep saying the F word?
Amelia: I don't hear it, all I keep hearing is "f***."
                                        -Amelia, 6 years old