I will admit, I laughed out loud while drawing Axe Cop attempting to blow the intercepted dinosaur horn.  We never really get to see him fail, though there have been times.  This episode of Ask Axe Cop comes to mind.  Regardless, it always makes me laugh.  I imagine Axe Cop acts a lot like a cat when it falls off of something.  He just acts cool like he meant to do it.
Well, I'm happy to post today's episode, but the big exciting news is that TOMORROW is the release of the final installment of the Bad Guy Earth series!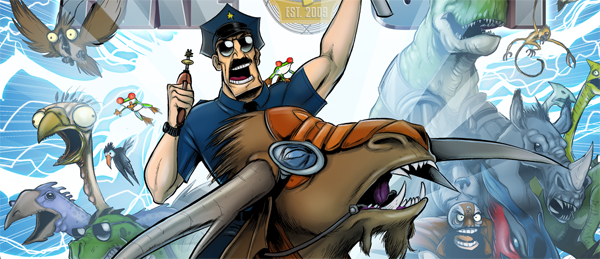 This is my favorite issue of the series.  Someone asked me at the Stumptown Q&A what the craziest thing I have ever drawn was and I said it is in this issue, it is the double page spread and you will see what I am talking about.  Malachai's forte is finales and climactic moments.  My friend Josh called Axe Cop the "Bonnie Tyler of Comics".  All epic, all the time.  That is why I think issue 3 is the best, because it is the finale, and it is where Malachai thrives.  So be sure to go grab up your copy fast!
Issue one of Bad Guy Earth is basically sold out and very hard to come by unless you can find it at a convention or something.  But have no fear… Dark Horse Digital is now open for business, and you can get Axe Cop comics for your iPad, iPhone, or just read them on your computer.  I have been reading through the available Axe Cop digital comics on my iPad and it is a really fun way to read them when you use the guided reading feature.  The punchline panels really hit hard when you can't glance over at them before you read the panel before.  I've had a lot of fun reading back through our last year+ of work.  What a great feeling.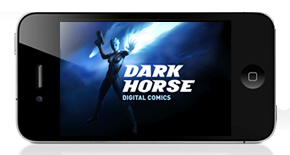 On top of all this, I have another possible suprise for Axe Cop fans on Thursday.  If not Thursday, soon.  I can't wait!  Oh yeah and thanks to everyone who came by my table at Anaheim Comic Con this last weekend.  I had a good time, though it seemed lightly attended, it gave me a chance to kick back and talk to some true fans of Axe Cop.  Thanks for reading, see you tomorrow when Bad Guy Earth 3 hits stands!!
Ethan
P.S.  I have noticed a severe drop in episode comments since we changed up the commenting functionality, so I went ahead and re-enabled commenting specifically on the episodes for now.  I'm running a little test to see if people are just tired of commenting, or if my wonky site is just stifling your inspiration to post.  We like interaction here so please feel invited to chime in and join the conversation.