I wrote this blog, then lost it.  But here is my RecomMonday for this week: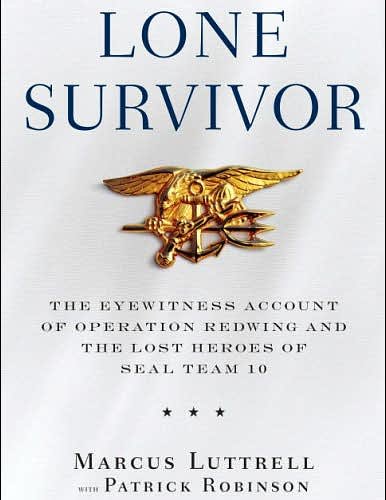 I was already in a hurry to write the last blog that totally evaporated, so I will just say this: look this book up, it is an AMAZING read.  I know that most of my recommendations have been art/creative related but the point of recommonday is only to recommend things, this I HIGHLY recommend.  It's an INSANE true story of one Navy SEAL surviving after a huge fire fight with hundreds of Taliban in Afghanistan.  The first half of the book is about SEAL training which is intense enough, but the second half is about the fateful mission where Marcus Luttrell went out with three of his close friends and Navy SEALS and only he came back alive.  My description is not doing this book justice.  It is one of the greatest true stories I have ever read.
I wish I had time to say more because this book deserves it, but just read the description:
On a clear night in late June 2005, four U.S. Navy SEALs left their base in northern Afghanistan for the mountainous Pakistani border. Their mission was to capture or kill a notorious al Qaeda leader known to be ensconced in a Taliban stronghold surrounded by a small but heavily armed force. Less then twenty-four hours later, only one of those Navy SEALs remained alive.
This is the story of fire team leader Marcus Luttrell, the sole survivor of Operation Redwing, and the desperate battle in the mountains that led, ultimately, to the largest loss of life in Navy SEAL history. But it is also, more than anything, the story of his teammates, who fought ferociously beside him until he was the last one left-blasted unconscious by a rocket grenade, blown over a cliff, but still armed and still breathing. Over the next four days, badly injured and presumed dead, Luttrell fought off six al Qaeda assassins who were sent to finish him, then crawled for seven miles through the mountains before he was taken in by a Pashtun tribe, who risked everything to protect him from the encircling Taliban killers.
A six-foot-five-inch Texan, Leading Petty Officer Luttrell takes us, blow-by-blow, through the brutal training of America's warrior elite and the relentless rites of passage required by the Navy SEALs. He transports us to a monstrous battle fought in the desolate peaks of Afghanistan, where the beleaguered American team plummeted headlong a thousand feet down a mountain as they fought back through flying shale and rocks. In this rich , moving chronicle of courage, honor, and patriotism, Marcus Luttrell delivers one of the most powerful narratives ever written about modern warfare-and a tribute to his teammates, who made the ultimate sacrifice for their country.
This book stuck with me for days after I read it.  I can't begin to imagine going through what these guys, and especially Marcus went through.  I can only say I am thankful there are guy like this out there because if the military only had guys like me to defend the country we'd be in pretty sad shape.  Thanks to all members of the armed forces for your service.  We talk a lot about heroes here at Axe Cop, but real heroes exist and we should read their stories. 
Ethan