Ok, first, I apologize this post is a day late.  We celebrated my first ever Father's Day on Monday, because the kids were with their dad on Sunday, so we made Monday step-father's day and it totally threw off my week.  I didn't realize I missed Tuesday until Wednesday was already here.  So here is your post, a day late.  Last week the site was down for three days so we never were able to post the Thursday episode.  It's been a little rough around here.
I've been pretty excited to talk about the amazing voice casting that has been happening over at ADHD for the Axe Cop animated series.  The one voice I was not allowed to own up to was the most obvious one, and that's Axe Cop himself.  We were all legally obligated to not say that Nick Offerman is playing Axe Cop.  Well, now we can say it apparently.  To celebrate I have decided to put together a little list of some of the coolest voices the show will feature, coming July 27th.  There is going to be a lot of reasons to like this show, but here are some to add to your list…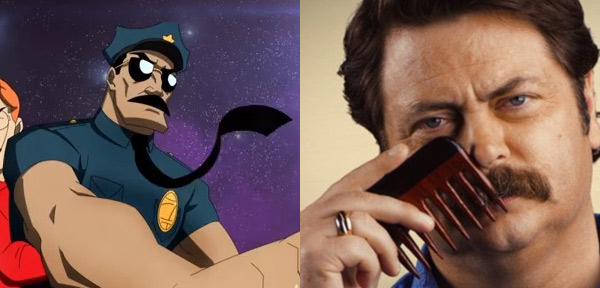 Yes, Axe Cop is voiced by Nick Offerman.  Ron Swanson himself.  Until just yesterday we were not allowed to say this because Offerman was under contract with NBC, and Axe Cop is on FOX.  He was going to do the role "uncredited" and we were set to list Axe Cop as "himself" in the credits.  Offerman is a big fan of Axe Cop and a super cool and friendly dude.  Before the TV show deal was even a thought, Nick took me out for beer and meat and along with his writing partner spent most of the time talking about his love of woodworking and Axe Cop.  At the first big meeting to kick off creating the TV series, Nick showed up with his Axe Cop books worn and ragged, with sticky notes all over the place picking his favorite moments.  He knows the comic like it's scripture and where I feel a false respect from a lot of folks in Hollywood, Offerman emits a real respect and I always feel like Axe Cop is in good hands with him.  He often reminds everyone in the room to remember Axe Cop is great because of its two creators, which is honoring, because another typical thing that seems to happen in Hollywood is that the more other people work on an idea, the more they start to act like they came up with the whole thing.  Offerman is humble and grounded and he is just not your typical Hollywood type of guy.  He also knows how to deliver Axe Cop lines.  He was made for the role.
Up next is Flute Cop, voiced by the hilarious and talented Ken Marino (Children's Hospital, Party Down).  Probably my favorite change in direction we took on the TV show from the comic, Flute Cop, while he does transform when blood rains on him, he defaults at Flute Cop.  In the comic, he often defaults at Dinosaur Soldier.  Ken waited in line at San Diego Comic Con one year to meet me and tell me how much he loved Axe Cop.  I didn't know who he was at the time because I watch hardly any TV.  Since then I fell in love with him in his role on Party Down and seeing his take on Flute Cop has been nothing short of amazing.  I know he wanted to be Axe Cop from the beginning, but he nails it as Flute Cop.  Marino and Offerman really play off of each other and give the characters a dynamic literally impossible to pull off in comics.  I'm pretty excited for you guys to experience Axe Offerman and Flute Marino.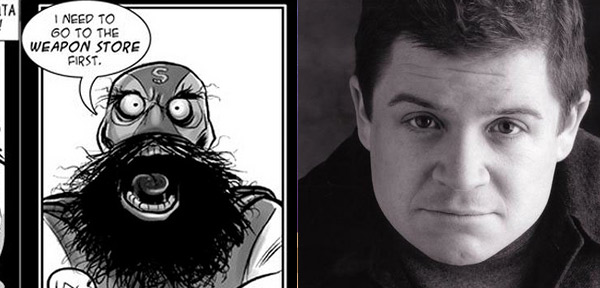 Sockarang is voiced by comedian and actor Patton Oswalt.  The day of our first meeting to kick off the show, Patton randomly was walking by because we were only meeting two houses down from his home.  He came in and on the spot said he'd love to be on the show.  He gives Sockarang a great childish personality that really works well to contrast Flute Cop's more grown-up demeanor.  When Malachai visits, my three-year-old stepson, Ezra sees him as a total hero.  He loves him and he thinks every single thing he does is awesome.  Sockarang is like Axe Cop's Ezra and Patton nails it.  I got to sit in on voice recording one day while he recorded and he nailed 95% of his lines on the first try.  I've tried doing some voices on the show myself so I know how hard that is to pull off.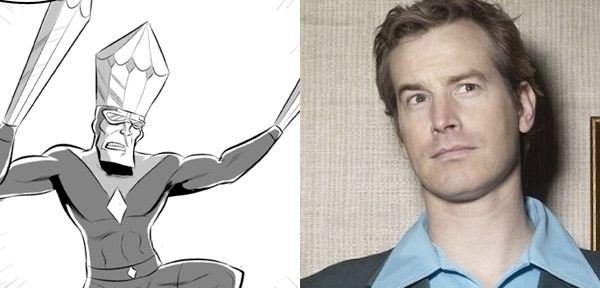 Gray Diamond took on a character of his own when Rob Huebel of Chldren's Hospital voiced him.  Rob's take on Gray Diamond was so good we started adding him to other episodes and making him a regular part of Axe Cop's team.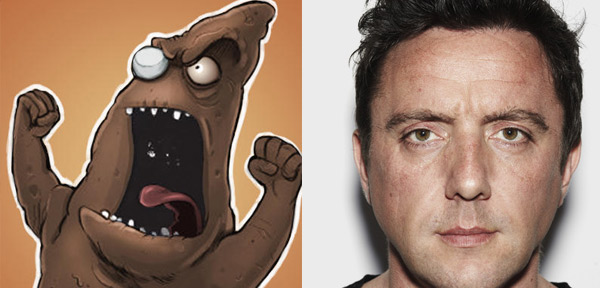 British actor/comedian Peter Serafinowicz (Sean of the Dead, Darth Maul) is amazing when it comes to voices, as exemplified in the multiple roles he takes on in the show.  Pretty much every male with an accent.  In the Zombie Island episode alone he voiced three of the main characters who all sound very distinct from one another.  But I think his Dr. Doo Doo is the best of all of them.  Peter was another early adopter of Axe Cop and he has been a fan and very supportive for quite a while.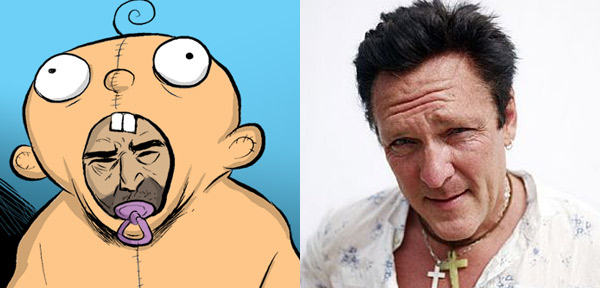 It's true.  Michael Madsen is Baby Man (Reservoir Dogs, Kill Bill).  Apparently when Madsen came in to do the role it took a while to convince him he was not on Punk'd.  He had not heard of Axe Cop and it is quite a bit to take in moments before you start voice acting in a sound booth.  Unlike the Baby Man of the comics who is mostly silent, the Baby Man of the show will speak when he isn't sucking on his pacifier.  Madsen's delivery of the line "Shake what your baby gave ya" is pretty priceless.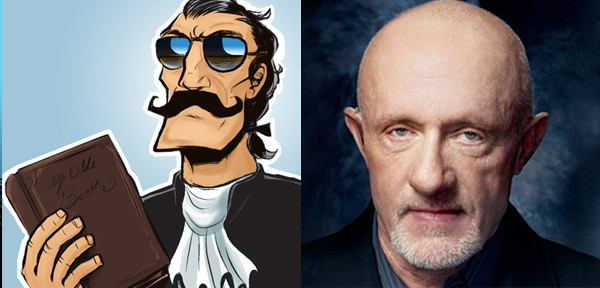 Here's one that, as a big Breaking Bad fan am pretty excited about.  Jonathan Banks plays Book Cop.  You have to see the episode to understand what Banks brought to this character who was just a clone of Axe Cop before.  He is amazing and a sincerely kind man as well.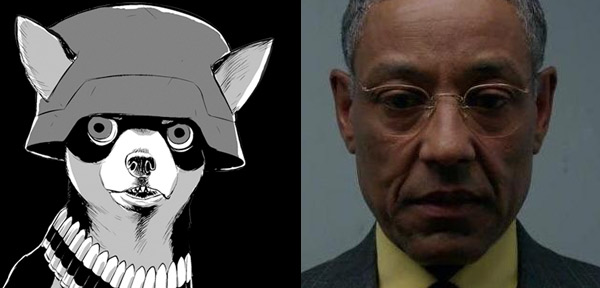 More awesome Breaking Bad casting… Giancarlo Esposito plays Army Chihuahua.  It's surreal to hear the voice of "Gus" delivering lines Malachai and I wrote.  Just wait for the origin story, it's chilling and hilarious.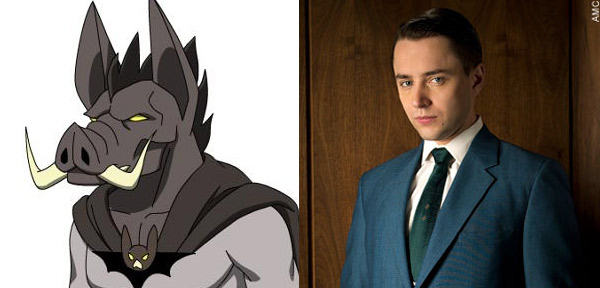 Of Madmen fame, Vincent Kartheiser is Bat Warthog Man.  He plays the sad superhero who lost all his friends, and the episode is downright awesome.
There are more great voices and I am sure even more to come.  Megan Mullally is doing most of the female voices.  Jared Harris as the King of England.  Tyler the Creator as Liborg.
And that's just the voices!  The art, backgrounds, designs and storyboarding I have seen has also been phenomenal.  This show is being created all in-house, similar to South Park, but at a true Saturday morning cartoon animation level of quality.  It's something pretty unheard of and everyone working on it is really putting their all into it.
If you catch the ADHD panel, or the Axe Cop panel (or even better, BOTH because they are back to back) as San Diego Comic Con this year, you will see the premier.  Otherwise, the first episode airs July 27th on FOX at 11pm pacific time.  That's almost a month away!
Ethan