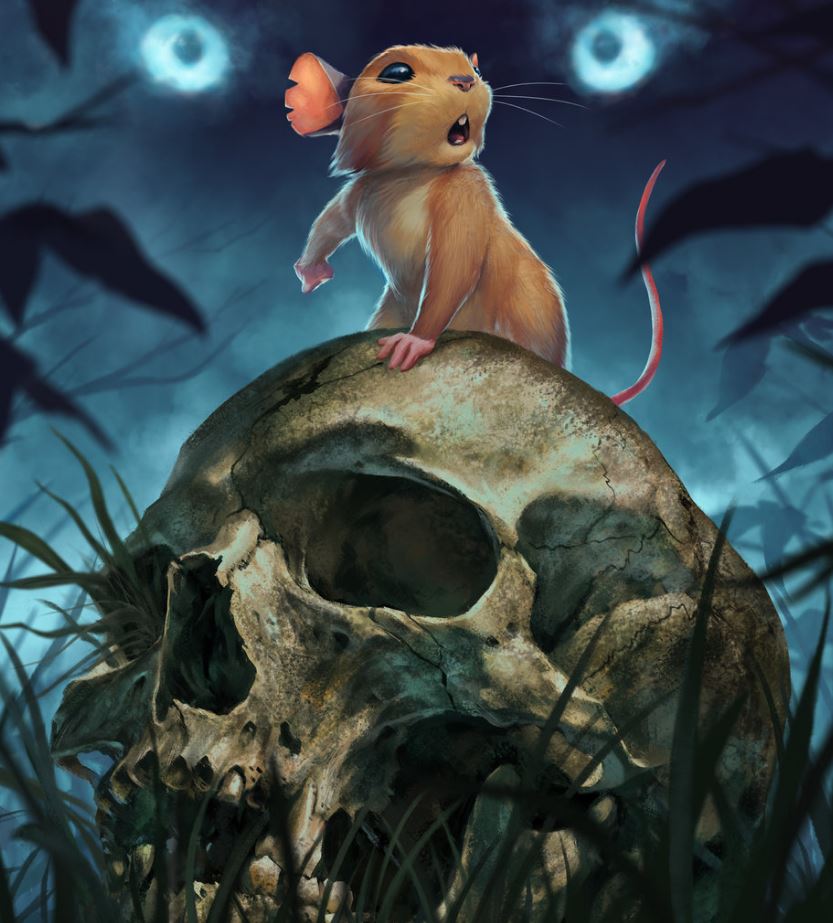 Mac Smith's Scurry struck like lightning when it hit the internet with its amazing painted pages of brilliantly lit rodents and scowling demonic cats. I don't remember exactly when it came out, but I remember how I felt the moment the images showed up on my screen. How do I describe it? I was excited by the subject matter, in awe of the art and hungry to see more pages. I'll be the first to admit that I, myself am not an avid reader of comics, print or web.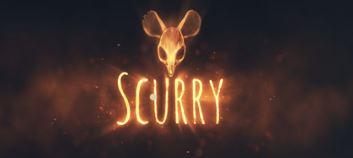 But Smith's Scurry stands out from the crowd in a way that makes it something more than another comic. It's like a fully rendered storyboard for some movie that, if ever made, won't look as beautiful as the source material. Every panel could be hung on a wall. If Smith sold a huge format version without word balloons, I'd buy it and make it the centerpiece of my coffee table, if I had a coffee table. Mac Smith is currently running a Kickstarter campaign for a Scurry book. It funded in the first few hours it was up and has gone way beyond its initial goal. I went in for the premium edition and I plan to put this book on my shelves of inspiration, a book case I keep in my office, an arm's length away, so that if I ever feel like I need a little inspiration I just reach out and grab something that will make me want to make stuff again.

Mac Smith's work is exactly that kind of work. Sure, his work is so good I run the risk of feeling like everything I have ever done is subpar and will never measure up. But when you look at a work like Scurry, you get a sense of wonder at what humans can do with a little color, imagination, and practice. It's inspiring and, at least for me anyway, looking at Scurry makes me want to scurry off and make better art.
Smith posts tons of process videos and GIFs and has his brush set available on his site too, so if you want to learn his techniques they are easily available. I highly recommend checking this stuff out if Smith's art amazes you the way it does me. I messaged Smith to see if he would be up for doing my first creator interview on my weekly webcomic feature and he agreed to.
     The Scurry Guy gets interviewed by the Axe Cop guy
Ethan Nicolle: First question. I used to take pride in my ability to crank out pages. That was until I saw Scurry. How are you managing to get so many painted pages done?
Mac Smith: I post twice a week. If I don't have anything else to do, I can create 3-4 pages a week. It took awhile to build up to that. The first 10 pages or so took a lot longer, but I completed the first 30 pages before I ever posted the first one, so I had a buffer. I had to come up with a good process and stick to it. There was a lot of trial and error involved.
Ethan Nicolle: Do you go one page at a time from start to finish, or do you pencil a bunch then go back and paint them? Are you working from a completed script?
Mac Smith: I usually work on 2-4 pages at a time, but I switch it up. Sometimes I'll sketch out several pages, then flat color them, then render, etc. Other times I'll work out one page from start to finish before moving on. I tend to get bored doing it one way for too long. I script about 20-30 pages at a time (about one episode), but the overall story exists in an outline.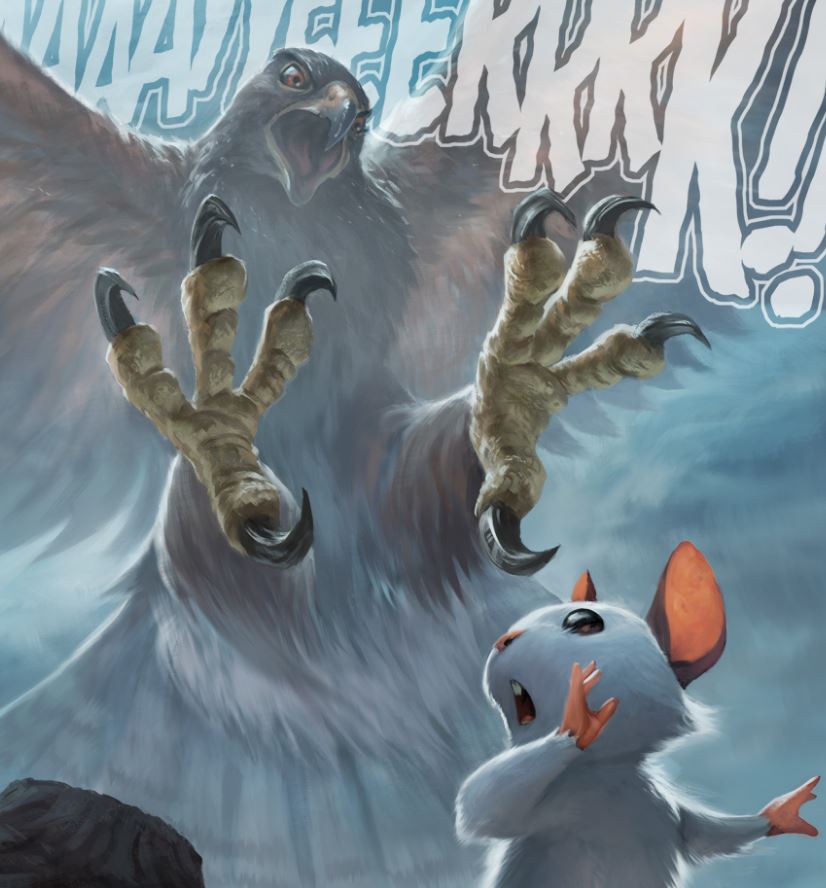 Ethan Nicolle: What is it about Scurry that makes you feel like this is a story that has to be told and you are the one to tell it?
Mac Smith: Growing up, I was always drawn to the dark and creepy kid's movies of the 80s, and feel that those kinds of stories are sadly lacking in today's sterilized and child proofed world, so I've always wanted to do something in that vein. It's a certain tone I try to hit… a mix of wonder, mystery with a bit of horror and comedy, too. It's hard to find that balance, but when it works, it's great. I'm certainly not the only one out there doing similar stories, but I just do my thing and hope for the best.
Ethan Nicolle: Do you see Scurry coming to an end, or going on indefinitely? Do you have other stories you want to tell some day?
Mac Smith: The main story takes place over 3 books, plus I have 2 or 3 side stories I want to do as well. There could be other stories, but I'll probably do some other projects first.
Ethan Nicolle: I just watched your Kickstarter basically double its goal the first day! You must be on Cloud 9 right now. How has the response to Scurry been for you overall? You must have had some hope it would get some amount of fans. How has the response been compared to how you hoped it would be when you posted page 1?
Mac Smith: I really had no idea what to expect. It's so hard to gauge what the interest would be. I wasn't sure if people would want a printed book, but it turns out there is still huge demand! The funding goal was the absolute bare minimum I would need to print for backers, so I was hoping for a bit more to give me a chance to take advantage of bulk printing. That way I will have enough leftover to sell at cons. I didn't expect to fund in a couple of hours, though.
But I've been building a social media presence for awhile, so I knew I'd have at least some early backers ready to go. The art community on Facebook and elsewhere is really great about supporting indie projects like this.
Ethan Nicolle: On another topic, the first time I saw your art, I saw that image of the mice going into the abandoned kitchen. A cracked door beaming a line of light through the doorway. I was amazed by your use of lighting in that image, it was so unexpected and dynamic. Also, the background on that page looks nearly photorealistic. Where do you draw inspiration for your dynamic lighting, and how do you tackle backgrounds? Are they imagined or referenced from a photo?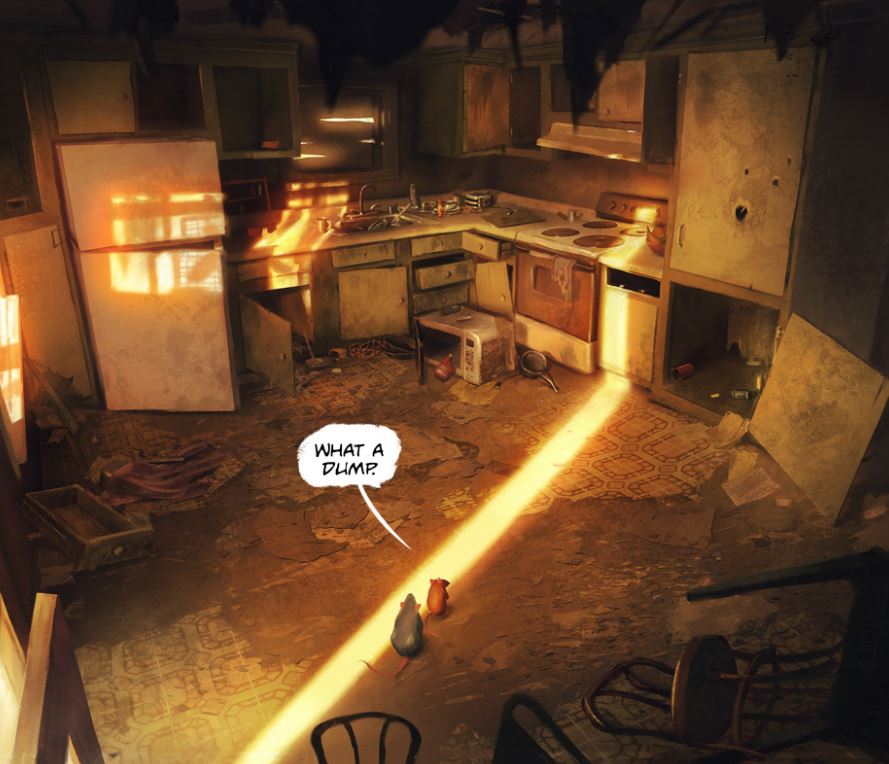 Mac Smith: The funny thing is that house in the comic is very similar to this horribly built house I lived in for a few years growing up. I hated that house. Hot in the summer, and freezing in the winter. But I remember how the light would pour in to the kitchen in the evenings. I've become really interested in light and color in the last couple of years. I never really studied it much before that, but its a great way to direct the eye and establish a certain mood or tone. I always try to think about where the light is coming from and where I can use it best.
The background was mocked up in Sketchup. Just some basic block models. That's a good fast way to find cool shots and interesting angles. I don't like the straight lines though, so I make manual selections with the lasso tool, and completely paint over the model. If you look closely, there aren't really any straight lines. They all wobble a bit. I sometimes overlay some texture, but usually just paint over it with various texture or splatter brushes.
Ethan Nicolle: You clearly love animals. I grew up obsessed with animals. My mom was a librarian and I would wait in the library after school until her shift ended reading every animal book. I had every pet I could get my hands on. What are pets you have had, and what are you favorite animals to draw?
Mac Smith: I grew up in the sticks, so growing up there were lots of random animals hanging around: Stray cats, dogs, an evil parakeet, a horse, a couple of chickens, a rabbit, a turtle… lots. But I didn't have any as an adult until I picked up Doug the Dog, my editor and business partner, seven years ago at the shelter. He mostly sleeps all day while I work, so he's pretty low maintenance. I've been tempted to pick up a couple of mice, too. I still might.
I think the mice are my favorite to draw. Since drawing them, I realize why there are so many animated mouse movies: They are basically balls of fur with cartoonish hands and feet and very expressive faces. They can be squashed and stretched into almost any shape. They must be an animator's dream. The cats are really hard to get right, for some reason. I have to redo them a lot.
Ethan Nicolle: I agree. cats are very hard. When I took on Bearmageddon I couldn't draw bears to save my life. I did a lot of cheating before I could draw one somewhat decent without a reference or something to basically trace.
Mac Smith: Yeah I should probably use more reference on them. I was trying to make them more monstrous than real life.
Ethan Nicolle: I think it's effective, your cats have a real demonic crumple in their faces. If I may coin the phrase.
One last question. What are some projects (webcomics, etc) you are keeping your eye on these days. Any recommendations?

Mac Smith: I've been so busy lately it's hard to read much. I haven't even watched many movies this year. Maybe 4 or 5. Anyway, Wormworld Saga and Stand Still Stay Silent are amazing, but I've been following some others like Angels Power, Tistow, and Beast Legion. There is a new one called Rising Sand that is freaking gorgeous.
---
I suggest you head over to the Scurry Kickstarter. You may also check out these links for more of Smith's goodness:
Mac Smith on Twitter
Mac Smith's page on Facebook
Mac Smith's Patreon page
---
Ethan Nicolle is the co-creator of Axe Cop, writer/artist of Bearmageddon, animation writer and maker of children's books