The Baby Man chases reaches new levels today… I want to see this live action so bad.

In other news, a ton of people have been sending me a link to the Daily Show, which aired a clip from Fox News in which it appears Axe Cop was being interviewed.  A guy named Kurt sent me this screen shot: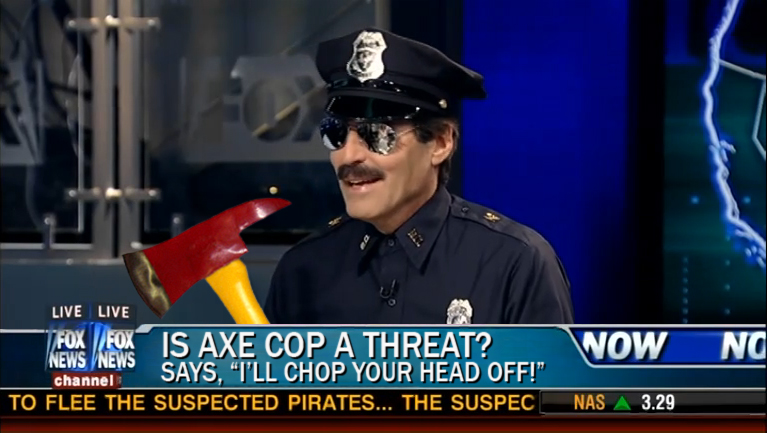 Ok, so in truth this is John Stossel, but with that cop suit on he is the spitting image of axe cop.  You can check out the clip here, it is at about 13:30.  Ironically, Stossel is known for his libertarian views on economics, and if you watch the first motion comic and turn on the closed caption audio transcription, Axe Cop is called "Tax Cut".  It seems Axe Cop is a small government man.  He may be a cop, but as far as we know he is freelance and not government employed.  I need to check with Malachai on that one.
Speaking of motion comics… the guy we had working on episode 2 was doing brilliant work, but has sort of stopped replying to emails.  I'm hoping he is OK, but we are starting to think we may have to start completely over on episode 2.  This is a bummer… sorry for the long delay.  We hope to get it out as soon as we can.  Have a great weekend, see you Monday.

Ethan