Today, two big things happen… first, an important development in Baby Man's duck chase…

And now, finally, we present to you the Wexter print!  There are a few options here… a coupel sizes in the non-signed category.  The signed prints are limited to 25 (cost extra too) and started selling before I even have had a chance to announce them, so if you want one you better get on it!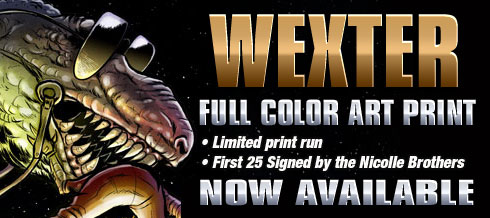 People are wanting more details than I can currently give on my coming trip with Malachai.  Let me say for now, we are working on a big Axe Cop story.  I also want to make another video with him (or a few), get some pictures together, and create together… we have been doing Axe Cop together since Christmas over the phone.  I think you will see new life breathed into the comic when I am creating with him in person.  I also just really like to visit my family.
I'll post wallpapers of this image tomorrow.  There will bemore prints becoming available soon… we wll be selling the Axe Cop painting by Michael Maher, and we will also be selling a run of prints of episode 1 signed and Ask Axe Cop 8 signed.  We will also be implementing an option to get a print of your favorite episodes or panels too.  More to come… I need to get tomorrow's episode done so I can start packing.

Ethan