Oh man, it has been over a month since the last episode of this story was posted!  Between my break, the Christmas episode, the birthday episode and the episode Malachai drew, Bat Warthog man remains patiently unable to find his friend.  Well the wait is over:

Yes, this episode was all about having a sweet ride, and it was written during my visit with Malachai while we were playing with his toy cars, in case you couldn't tell.  We did a bunch of work on this storyline while I was there and oh man is it going to head off into some crazy places.  Can't wait for you to see what I have to attempt to draw.
In other news, the anniversary (or.. AXEIVERSARY) is coming soon.  January 25th is the actual day that axecop.com was posted.  To celebrate, we are doing an awesome event at Meltdown Comics in Los Angeles pn January 27th!  Malachai will be taking the first plane ride of his life (with our Dad) down here to sign books and join us for this awesome event.  Also, James and John of CHOP CAST will be there! Here is what you can expect if you come:
-A sneak peak at a scene from BAD GUY EARTH
-An Axe Cop art gallery with prints for sale, some of art that has never been seen online or in print before.
-A discussion panel with James, John, Malachai and me featuring various videos including motion comics and a brand new live action short film adaptation of Axe Cop episode one (made by some very talented fans!)
-A special look at the creative process, with new visuals along with a Q and A with Malachai and me.
-there will be a food truck or two present to feed you food.
-lots of awesome people.
-This special ONE YEAR ANNIVERSARY PRINT will be for sale at this event and it will be the only opportunity to get it signed by both Malachai and me.  (it will be available online signed by me only)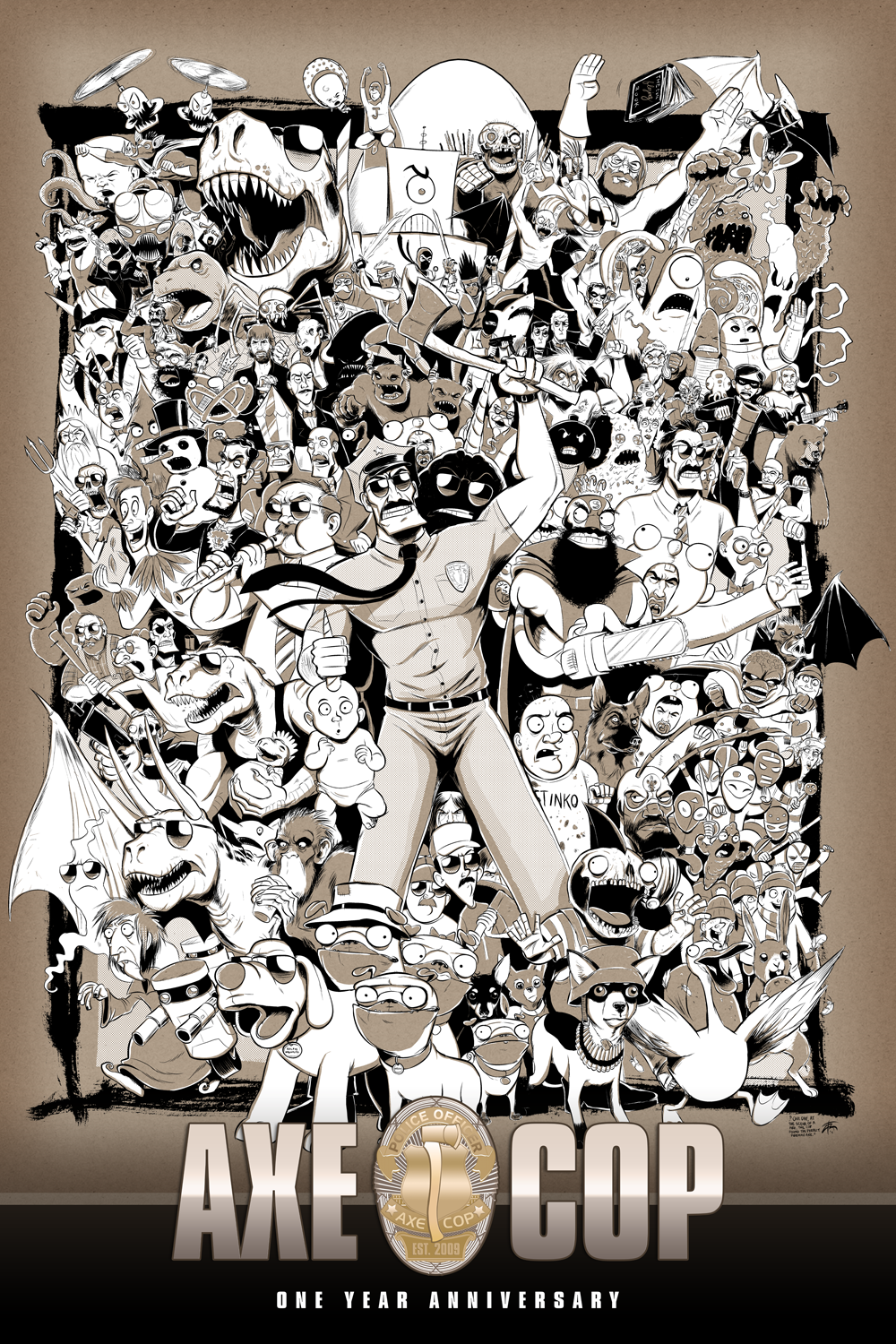 (note: the print is a two color screen print, it will not have the logo/text on the bottom. It is 18×24 and is black and white ink on french speckletone oatmeal paper)

RSVP for this event on Facebook!

I have one more announcment, and that is that Doug TenNapel (Earthworm Jim's father) started a brand new web comic called RAFTFIST!  It's beutiful brush work, full color, and updates 5 pages a week!!

That's all for now!  See you next week!
Ethan